6 Tips: Why Law Firms Need Social Media Marketing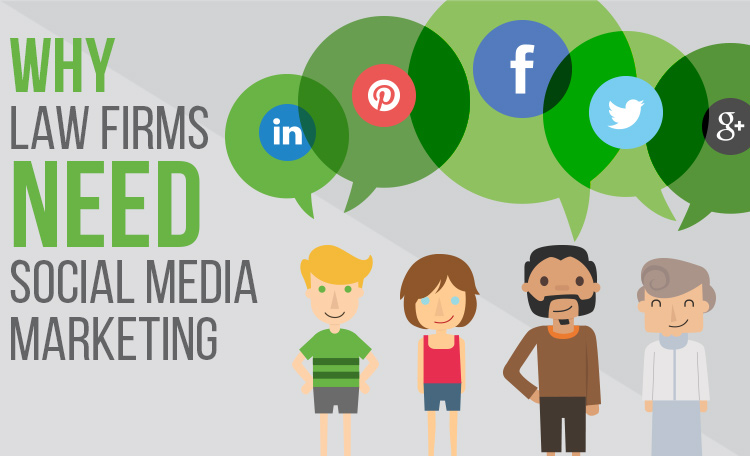 When one considers how today's society is totally obsessed with the latest technology and how many are turning to social media to keep in touch with friends, family and to keep up with breaking news, any law firm that is not utilizing social media is missing out on one of the most effective opportunities for reaching potential new clients.
How Social Media Gives Law Firms The Competitive Edge
The world is gravitating more and more towards social media for everything. Law firm wanting to gain a competitive edge are going to need to learn how to operate fluently in social media to do so. So what are some ways that social media can provide that leading edge over competitors?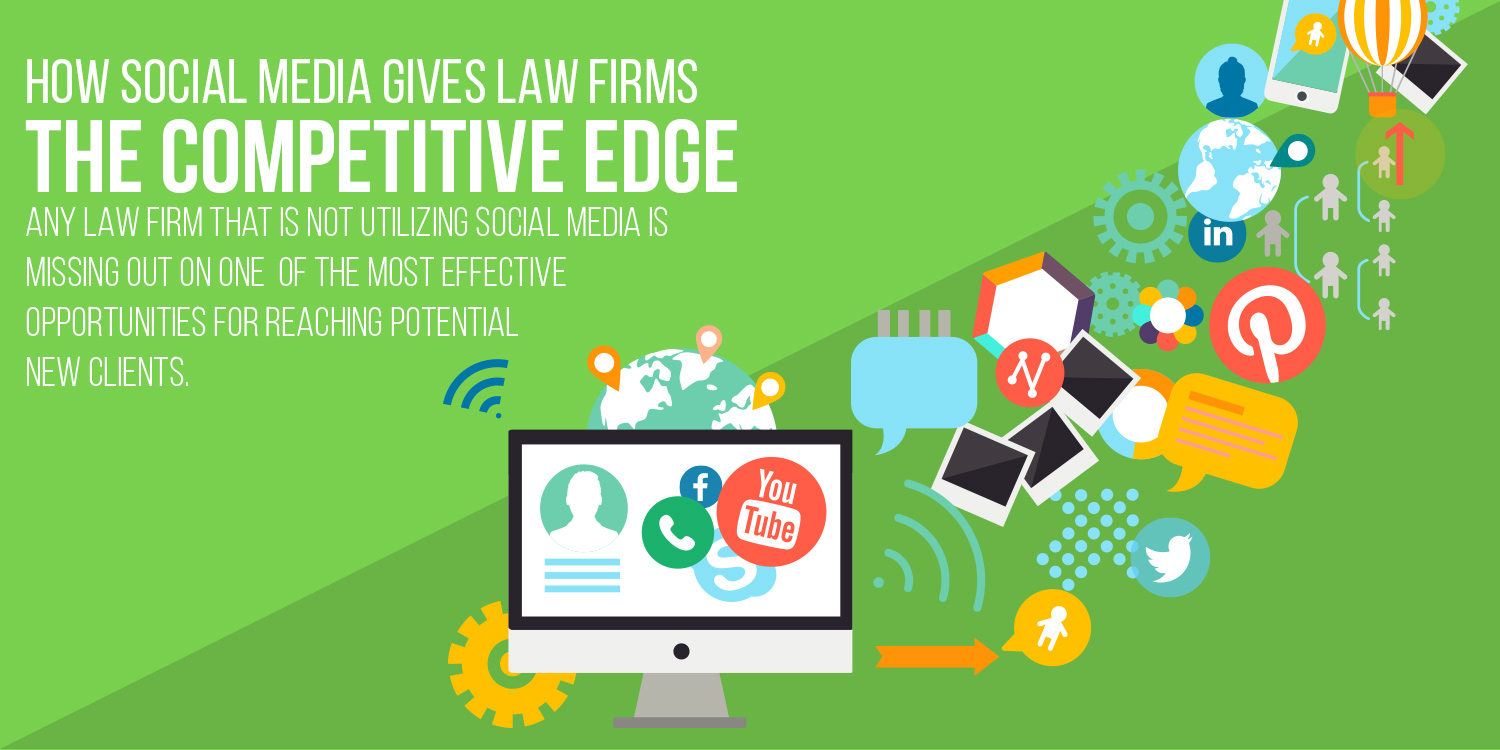 Social Media Provides Greater Exposure and Reaches More Clients
The most important thing that social media does is it makes you visible to potential clients. For decades, word of mouth has been the number one trusted method for gaining referrals and new clients but today word of mouth has evolved into a multifaceted multimedia platform that is capable of reaching millions of people. Knowing how to use it gives you the opportunity to reach those millions and for them to be able to find you. How?
When clients need legal help or advice the first thing they do is a Google search to see what law firms are out there and which legal counsel is recommended the most. Knowing how to use social media effectively gives you the advantage of showcasing your firm at the top of the search results inviting them to come to your website to see what you have to offer them.
A well designed responsive website can showcase your firms strengths, that you are credible and capable of delivering results. This is where people will come to find out more about you and what your firm can do for them. It also has the potential to turn a visitor into a client. A well planned social media campaign is able to communicate the character of the firm giving the client a sense of confidence in your ability to get the job done. The right copy on the website can help your firm feel connected on a more personal level.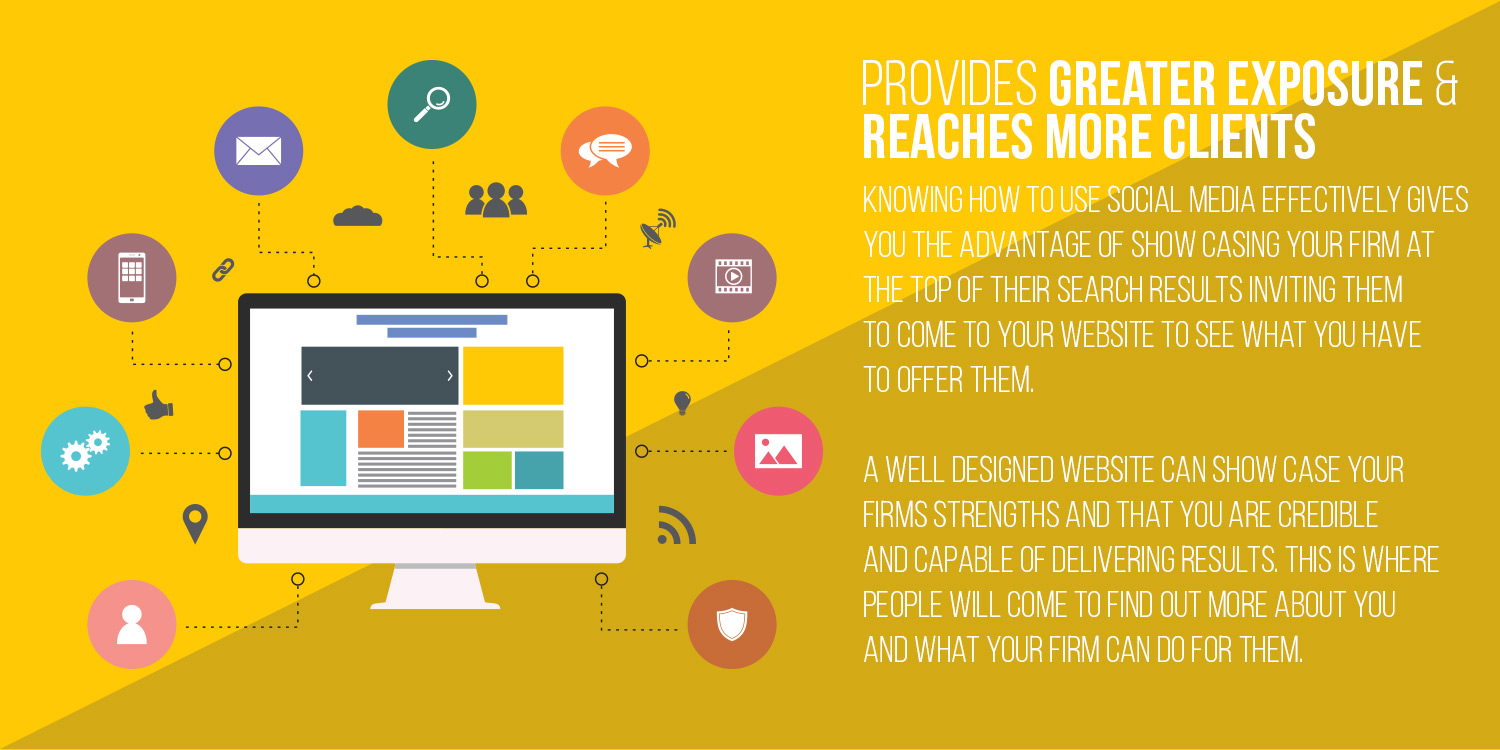 Effective Method of Communication With Clients and Prospects
Social media offers a variety of communications platforms to reach and connect with people that are fast, inexpensive and far more effective than the traditional emails which are often over looked.
One constant struggle that many attorneys have is trying to stay visible with clients. Unfortunately emails can only do so much with all of the many distractions in the inbox to compete with. Using platforms such as Twitter, one can easily share interesting articles with both clients and prospects. It gives your firm the opportunity to show how creative and interesting your attorneys are as individuals. It also enables the lawyer-client relationship to develop beyond just work and business related needs into successful ones that include shared outside interests.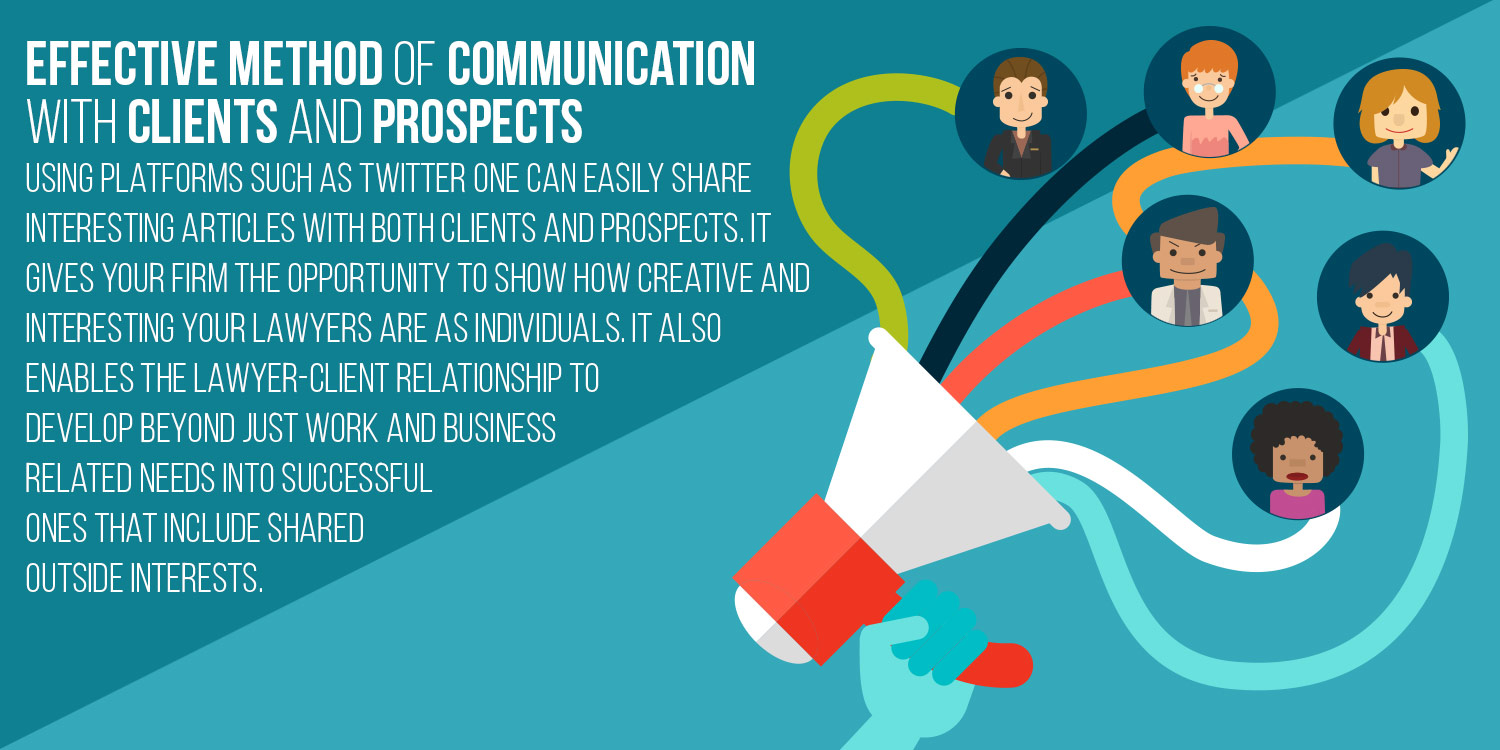 A Competitive Edge
Being able to see what your competitors are doing and offering their clients means being able to offer better services and competitive rates which gives your firm the upper hand. Using social media can not only show you what your competitors are saying and doing but also what prospective clients are saying about your firm. This also gives your firm an upper hand because it shows in real time where any problems are and what needs to be done to fix it.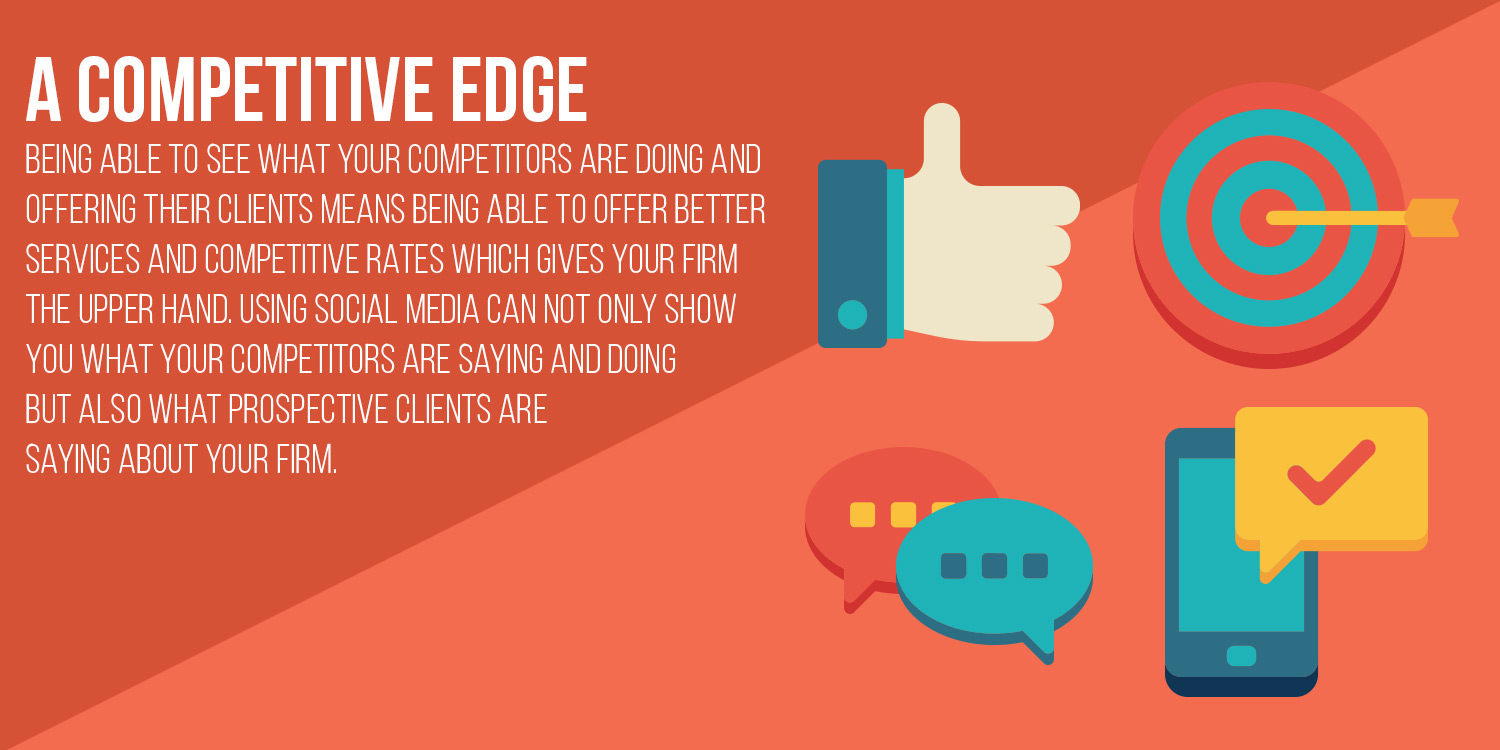 Stay Up To Date With Industry Trends
Social media has several platforms that can keep you up to date on developing trends in your practice area then use that information to write posts allowing you to stay visible to clients and prospects alike. It also give you a real time voice by allowing you to respond quickly to breaking news that either affects your area of practice or potential clients as well as be able to join in online discussions. It allows you to see what your local community is discussing on a daily basis to allow for new relationships to build.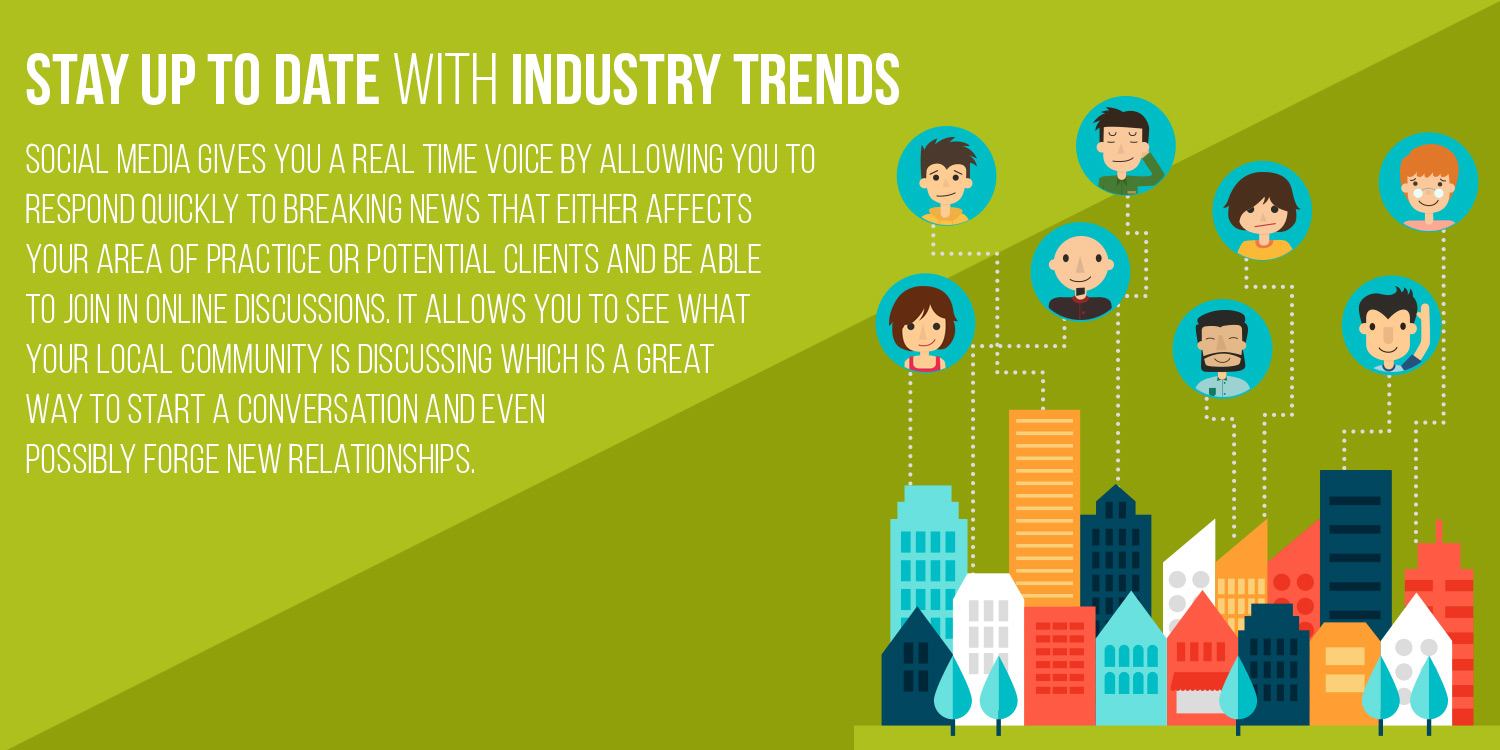 Reputation Management
Your firm's most valuable asset is it's reputation and trust so it makes sense to protect it. After all a review or comment can remain in the public eye indefinitely whether good or bad. A person can lose their credibility by posting useless or incorrect information. Rival competitors can post slanderous or derogative comments about you that can effect how potential clients view your firm. So your online reputation can actually be more important than your offline reputation because it's the one that most people have access to. Being able to respond quickly to negative feed back can be effective in managing your reputation. It also helps you to stay up to date on not just what clients are saying about you but what your lawyers are saying in public.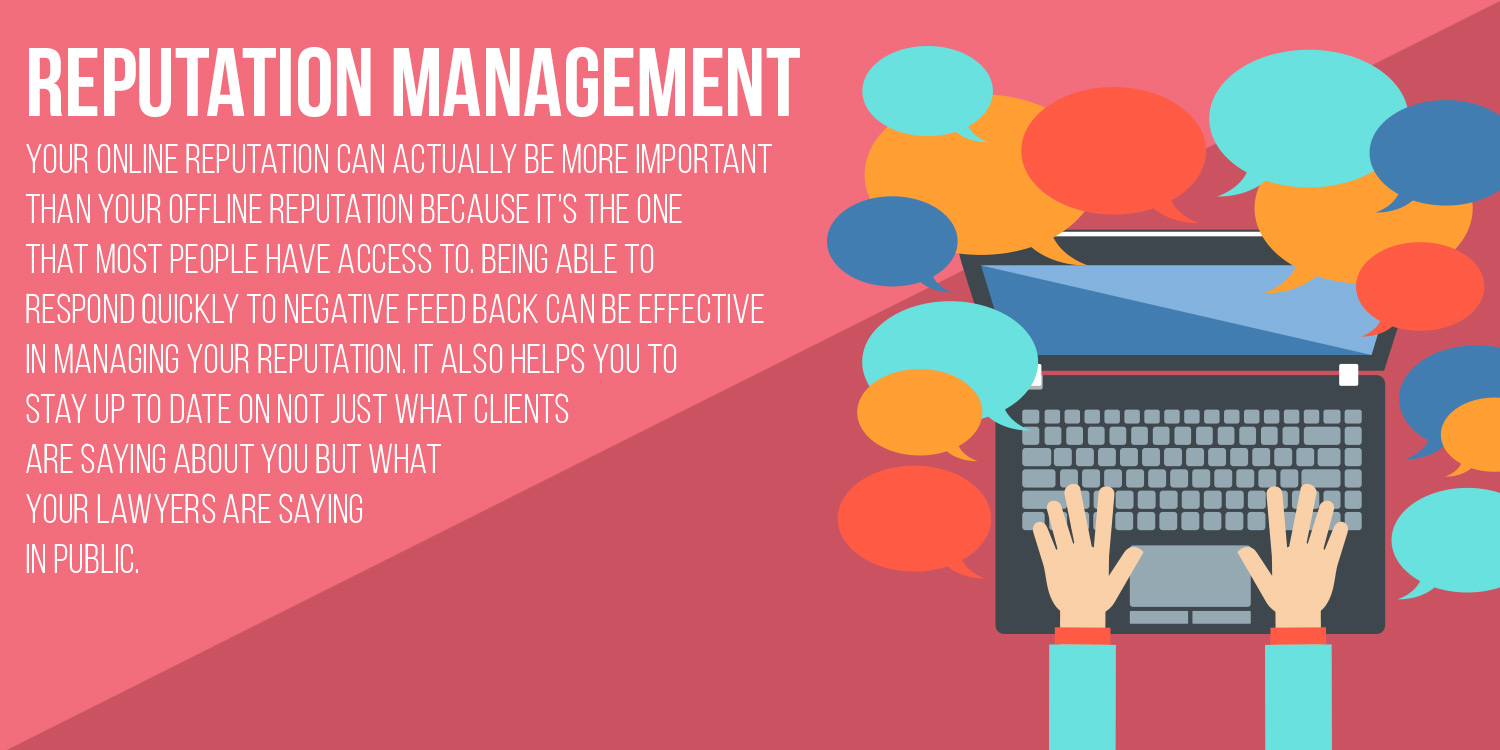 Click here to download the 6 Tips: Why Law Firms Need Social Media Marketing Infographic

---