5 Quick Steps to Law Firm Marketing Infographic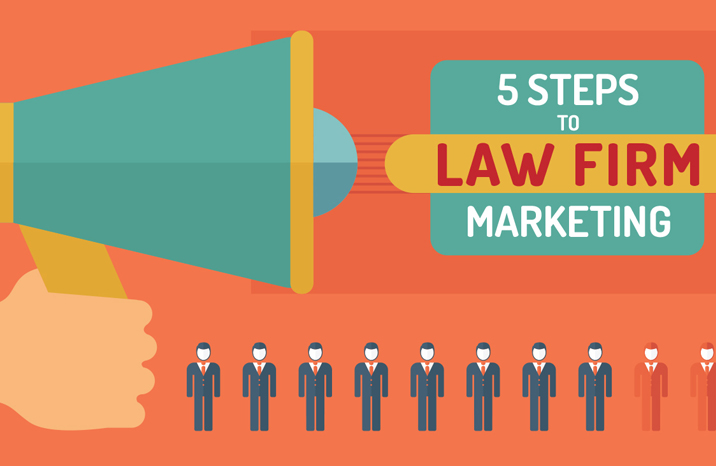 Attorneys and law firms in general are quickly discovering the inherent value in properly implemented Internet marketing strategies. There are 5 clear and obvious steps that any law firm can take to improve brand awareness and generate more new clients. Here are five steps to law firm marketing that are intended to enhance client attraction and client retention.
1. Website Usability
In today's modern Internet-based world a law firm's website is in every respect the firms business card. Making a website easy to use and friendly can enhance brand awareness in an effective and reliable way. A website should be intuitive, simple to navigate and provide clear and direct to the point information. Websites that are confusing, overcrowded and poorly planned can only serve to reduce brand awareness and brand acceptance.
2. Quality Content
As with any business that has established an online presence, a law firm must deliver quality content online to achieve excellent online exposure. From blog posts to articles and general web copy, content must be easy to read, informative and useful. In the legal arena this often means providing online visitors with legal information that can help them with their specific issue or legal problems.
3. Social Media
Social media is a microcosm of online interaction that every law firm should embrace. Social media is valuable to law firms because it enables attorneys and other legal professionals to interact with clients and potential clients in a way that would otherwise not be possible. Most importantly, social media enables attorneys and law firms to develop a trusted reputation online. From Facebook to Twitter and LinkedIn, there are many opportunities available to law firms with regard to social media.
4. Testimonials, Reviews And Ratings
Law firms wishing to gain a strong footing online in terms of improved reputation are quickly learning that testimonials, reviews and ratings are essential to gaining the trust and respect of the community. Savvy and experienced online surfers and visitors to websites trust the comments and advice of others. That is why testimonials, reviews and ratings are so incredibly important to attorneys and law firms in general. When a company or law group focuses on integrity, transparency and client satisfaction, these characteristics shine through in testimonials, reviews and ratings.
5. Contact Information
Many businesses and law firms today sometimes fail to take full advantage of all that a website platform has to offer. One example of this is failing to provide detailed and adequate contact information on a website. Law firms stand to gain substantially from making it easy and convenient for prospective clients and existing clients to contact the firm on demand. This simply includes having a telephone number, address and other contact information such as email address clearly visible and easily accessible on a website. Equally useful is that of online instant chat applications. Making it easy to contact a law firm is an essential and important aspect of law firm marketing that should always be considered.
5 Quick Steps to Law Firm Marketing Infographic

---